Havarti Habanero Cheese
"Yowza" is all I can say about the Featured Cheese of the Month, Havarti Habanero.  Yowza because of the fact that it's like fireworks when eaten and therefore, perfect for our July cheese.  Happy 4th of July Everyone!  This cheese went like hotcakes, and when I say hot, I mean HOT.  I personally couldn't take the temperature (I am not traditionally a big fan of too much spice), but I was shocked at how many people loved this cheese and said that the spice was just right.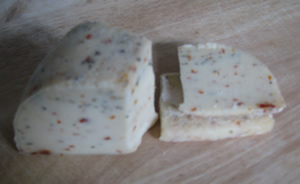 Some information about Havartis in general:
Havarti is originally made in Denmark but is also made in other countries including Australia and the US.  It is made from a pasteurized cow's milk cheese.  This cheese was named after Havartigaard, the experimental "Havarti Farm" where in the 19th century Hanne Nielsen created what is now one of Denmark's most popular cheeses.  Its creamy and mild taste makes it a perfect cheese for the addition of a variety of seasonings, like dill, caraway seeds, chives, peppers and many herbs and spices.
This particular Havarti came from a "green" farm in Indiana, known for their creamy dairy products.  If you are looking for an aged or dry cheese, this is not your farm; but if you are looking for the most creamy semi-hard, traditional cheeses, I've found your dream dairyland.  Their cheeses are creamy and tasty enough to stand alone for a tasting but even more decadent when used in recipes like fondues, quiches, paninis, chili toppings, etc. 
See some of the comments, ideas, and suggestions from people who were able to get in on this deal:
"The cheeses are all very delicious!  My favorite is the Habanero Havarti.  I shredded it on top of homemade chili and skipped the Tabasco sauce!  Also enjoyed it slightly melted on top of chicken burgers  with slices of avocado.  I love the kick in this cheese!"
"Ate a good amount of it within minutes of its arrival.  So creamy and delicious with a great kick."
"The cheeses were a BIG hit in my house. The favorites were both Havartis."
"Loved the Havarti onion, but the hot one was too hot, and we like hot."
"Loved it!  Served it to the girls and had enough to serve to my family. I loved the spicy one with crackers."