Pasta with Robiola, Heirloom Tomato Relish and Basil Oil*
Serves 4
2 tablespoons plus ¼ c extra-virgin olive oil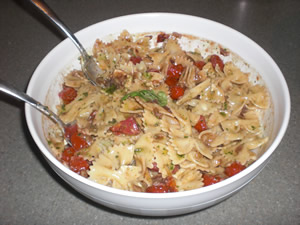 ¼ Vidalia or sweet onion, chopped
2 tablespoons balsamic vinegar
1 pound grape heirloom tomatoes, halved (any delicious tomato will do but grape heirloom tomatoes are sweeter and hold their shape)
4 ounces Pappardelle or Farfalle pasta (or lasagna sheets cut — any type of flat pasta)
½ c basil leaves
1 clove garlic
4 ounces robiola cheese (cut into 8 pieces)**(see tasting notes)
Salt and pepper to taste
Fresh parmesan shavings
Heat 2 tbl of olive oil over medium high heat.  Add the onion and cook, stirring, until tender, about 6 minutes.  Add the vinegar and tomatoes; cook, tossing until the tomatoes begin to burst, about 5 minutes.  Set aside the tomato relish to cool.
Meanwhile, in a large pot of boiling water, cook the pasta al dente. 
In a blender, combine the basil leaves, garlic clove and remaining ¼ c of oil.  Blend until smooth. 
To serve, toss the pasta with the tomato relish, cheese, salt and pepper and drizzle with the basil oil.  Garnish with whole basil leaves and parmesan cheese (optional).
Robiola cheeses come from Italy and in a variety of shapes, sizes, milk types and ages, however they all have an edible rind and creamy, moist richness. 
Robiola is a table cheese, served either alone or with oil, salt and pepper.  Proper storage is key with this cheese.  Do NOT wrap in plastic since this can suffocate the cheese.  Refrigerate unwrapped in simply its crust or wrap it in paper.   It can be kept up to a month but is best when eaten within a week of purchase.   Did I also mention that I offer a free service of "housecalls" to help you eat any cheese you cannot finish in the recommended time frame?
*Based loosely off of a recipe in Culture magazine (Summer, 2011)
**I happened to be out in Huntley, IL visiting my parents this summer when I couldn't find a cheesemonger to save my life.  There was not a robiola to be found for miles.  I substituted with a very stinky French Brie and it was lovely.  I paired this with a fruity white wine and was not pleased.  I would recommend a drier white or a light summer red.